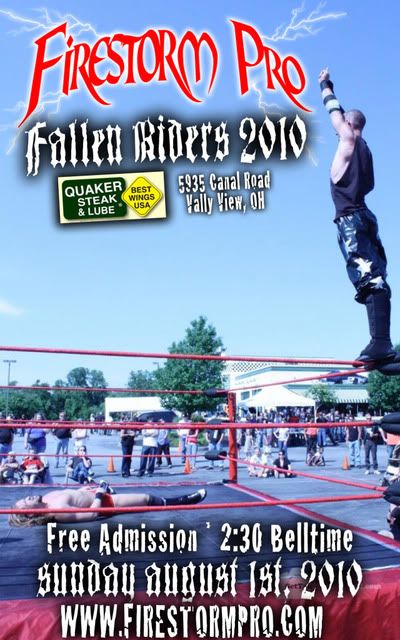 Firestorm Pro Wrestling is proud to announce Fallen Riders 2010. This is our 3rd year of being apart of this very special event. Our entire show will be a memorial to the families of bikers who lost their loved ones to accidents. Fallen Riders 2010 will be presented for free. Firestorm Pro Wrestling has donated their time to bring you "The Greatest Live Pro Wrestling Experience in Ohio" with some of the biggest matchest in Firestorm history.
Belltime @ 2:30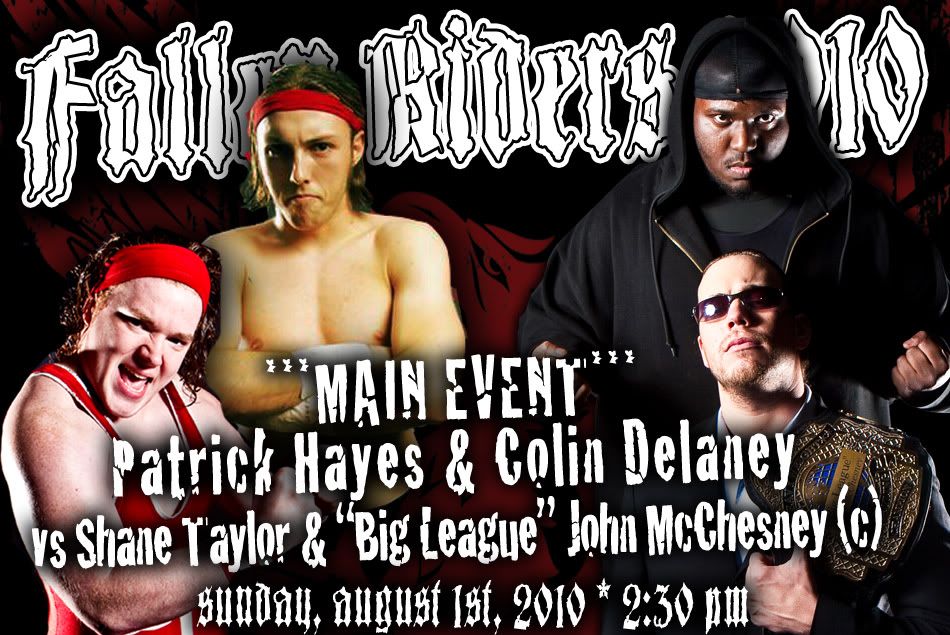 ***MAIN EVENT***
Firestorm Champion "Big League" John McChesney & Shane Taylor vs Patrick Hayes and Colin Delaney
With the help of his favorite lady friend "Big League" Stephanie, John McChesney was able to steal a win from M-Dogg 20 Matt Cross at Rise of the Real Underground. And now that Patrick Hayes has taken PJ Kinney out of Firestorm in a very brutal Cleveland Street Fight last month he has his sights set again on the Firestorm Championship. Interestingly enough Firestorm Pro Wrestling has just signed one of John's biggest enemies in the world of professional wrestling, former ECW STAR COLIN DELANEY! When Firestorm Pro owner had 2 men who he feels are the future of Firestorm begging him for a chance to take on John McChesney, he decided that they both need to earn the opportunity for a title shot. But they can both have John McChesney now. Also, Whoever gets the winning pin on eather member of Big League gets the title shot at SOMETHING TO DIE FOR 2010 on September 10th @ The Phantasy. With all the miscommunications between McChesney and Shane Taylor, McChesney once again has to put the fate of his championship in Shane's hands.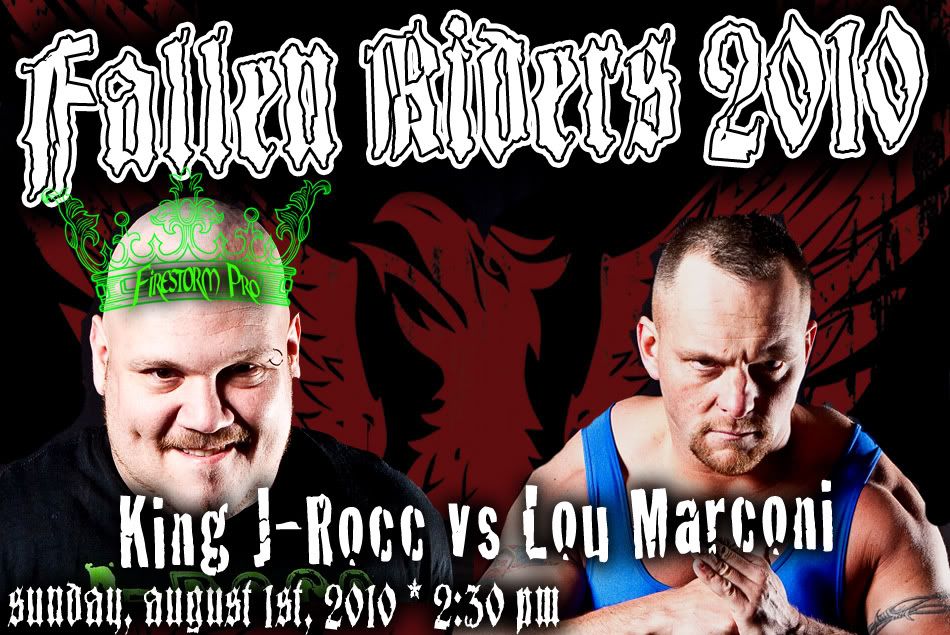 ***FIRST TIME EVER***
"The King of Cleveland" J-Rocc vs "Old School" Lou Marconi
The first time match up promises to be one for the classics. 2 of Firestorm's most successful ring veterans meet in the ring for the first time ever!!! Since winning the King of Cleveland J-Rocc has now taken his new title to his head. He is now as he likes to say "Living The Life" with full challace and crown. Lou Marconi promises to put his dislike of J-Rocc aside for this one time match to prove to the current "Youth Movement" of Firestorm Pro "How real men wrestle".
***TAG TEAM CHAMPIONSHIP MATCH***
Club DB (c) vs The Aftermath & Ares
These two teams met back in March at THE KING OF CLEVELAND in a non title match. Club DB was very surprised at the athletisism and teamwork out of Aftermath and Ares. They barely where able to escape with a win. Now this time it will be for the Tag Titles. What kind of offence will Aftermath and Ares bring on August 1st? Will Club DB be as lucky as last time?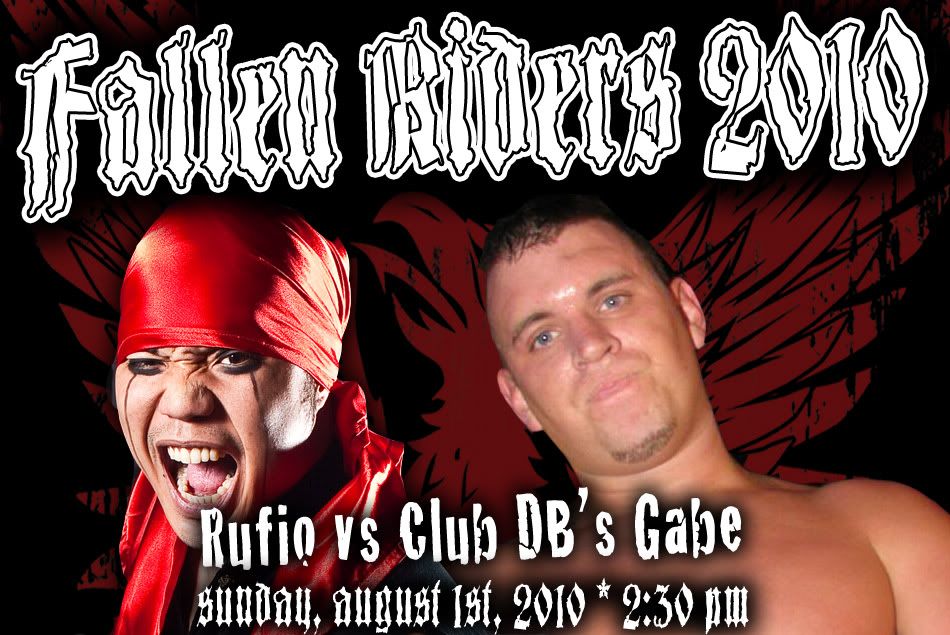 Rufio vs Club DB's Gabe
With the exciting debut of the newest member of Club DB, Gabe has all the confidence of his boys behind him. He right away asked to wrestle one of Firestorm's hottest stars in Rufio. Can Gabe win the match with his mad skills and good looks or will Rufio beat him like he beat his boy Broza?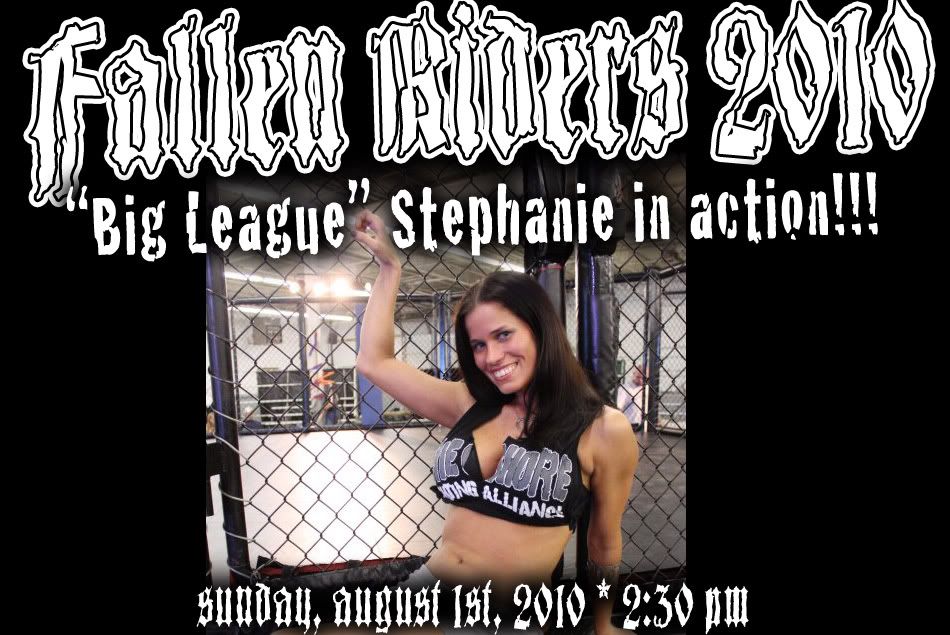 All these matches plus Jason Gory, The McCoy Brothers, Ivan Radski, Tim Greene and more at the FALLEN RIDERS MEMORIAL 2010 Sunday August 1st @ 2:30 PM. The show is absolutely FREE! So come on down and enjoy the show!!! WWW.FirestormPro.COM